Cindy presents to many different individuals in a wide variety of industries and settings. Anyone interested in improving the culture of their organization can benefit from Cindy's participative, engaging, powerful and enlightening presentations. Her message and strategies can truly be used in any setting…both professional and personal. Below are a few examples.
Areas of Positive Reinforcement Include:
Businesses
Building trust
Team building
Customer service / client relations
Effective communication
Leadership training
Mindfulness
Hospitals
Trauma recovery
Resiliency building
Working as a team
Care for healthcare workers
Mindfulness
Schools
"Helping create schools where students love to learn, teachers love to teach and parents are proud.®"
Developing a positive school culture – building relationships
Creating a vision
Educational audits – improve teaching and learning
Leadership training for all levels
Yoga/mindfulness in schools
Community and parents as partners
Education/Background
Cindy Zurchin holds a doctorate degree in Educational Leadership from Duquesne University, Pittsburgh, PA. She received certifications in the "Seven Habits of Highly Effective People" from the Covey Institute and in "Leading Change" from John Kotter. She holds certificates in Mindfulness, Chair Yoga and Yoga for Children.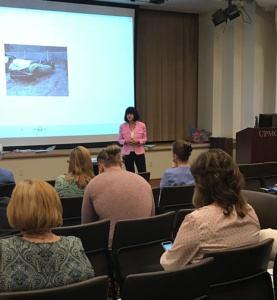 Cindy owns and operates a successful dance school established in 1988 and has consulted in product development with the Blanchard Institute.
Cindy has over 30 years of leadership experience in education. She is a co-author of The Whale Done School where she led the transformation of an unruly school into a national model for improving school culture.
Whale Done! Series co-authored by Cindy Zurchin
"Helping create schools where students love to learn, teachers love to teach and parents are proud.®"

THE WHALE DONE SCHOOL is the third in the Whale Done! series, focusing the proven power of positive attention on the process of educating children. Based on an actual school-turnaround story, the fable demonstrates how students' behavior and academic performance improves dramatically when teachers systematically employ the science of training killer whales – i.e. building trust, giving lots of attention to what their students do right, and redirecting wrong behavior to positive outcomes. This book can be found and purchased on Amazon.com.
Reviews of Whale Done! Series co-authored by Cindy Zurchin
"As a parent of an 11-year-old daughter who is going through pre-teen drama right now, I am thoroughly thankful for this book. I struggle on a daily basis with getting my daughter to do her homework without giving me a hard time. Reading this book really taught me how not to look at the negative things but to accentuate the positive! I plan on reading the other Whale Done books as well. This story really brought it home for me and was on a level that as a parent I could really understand. WHALE DONE!"
"I think these principles communicated by the author should be instituted in all schools. We would not only see a rise in test scores, but most importantly a rise in happiness and joy. Catch a child doing something right and be surprised by joy! Whale done!"
"5 out of 5 stars! Wow! That is all I can say!
"As a high school teacher, reading this book has been the best adventure and investment I have ever made! I will incorporate every idea from this book into my classes on a daily basis!"
"To see a doubtful teacher change her thinking and come on board with the book's concept was amazing – as was students learning to take the lead with others. This was a great read!"
"5 out of 5 starsI loved seeing how this strategy worked in a school setting."
"A good read and helped reinforce the potential for using this philosophy."
"5 out of 5 stars! A whale of a good book for a new teacher!"
Sign up for a FREE Motivational Message from Cindy